INDUSTRY NEWS AND AWARDS
May 2, 2022 / 2 minute read
ADS: Now the Number One Plastic Recycling Company in North America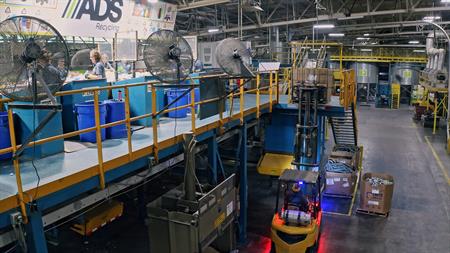 We were excited to learn early this week that Advanced Drainage Systems, Inc. (ADS) is now the largest plastic recycler in North America, according to this week's annual ranking from Plastics News! Our company had previously been the second-largest plastic recycling company on the continent. We have made concerted efforts to reinforce and grow our recycling resources, and Plastics News recognized the growth in that business. In fact, more than half of the plastic ADS purchased in 2021 was recycled, made possible by our pioneering plastic-blending program, company-owned and operated recycling facilities and unmatched engineering expertise. In 2020, we also consumed 28% of all high-density polyethylene (HDPE) bottles in the entire country. HDPE is used to make plastic bottles for products such as laundry detergent, milk and shampoo.
Sustainability has been and continues to be a core part of who ADS is as a company and how we operate our global business, and we're thrilled that this now makes us the top recycling company in North America. Our reason is water, but our recycling capacity allows us to better and more quickly serve our customers while contributing to a circular economy that keeps plastic waste out of landfills and in our pipe products, extending the life of these plastics for up to 100 years.
Recycling is one part of ADS' sustainability commitment. In the past year we signed the America Recycles Pledge, where we will work with the U.S. Environmental Protection Agency and other pledge partners, to do our part in helping achieve the ambitious goal of increasing the national recycling rate to 50% by 2030. ADS also joined The Recycling Partnership and its Polypropylene Recycling Coalition to advance our commitment to protecting water and keeping millions of pounds of plastic out of landfills each year.

On Earth Day this year, ADS also signed our commitment to the Science Based Targets initiative, a partnership between the Carbon Disclosure Project, the United Nations Global Compact, World Resources Institute and the World Wide Fund for Nature to reduce our company's greenhouse gas emissions.