Willoughby Sports Complex, Langley, BC case study, (METRIC)
Filename:
Willoughby Sports Complex, Langley, BC case study, (METRIC).pdf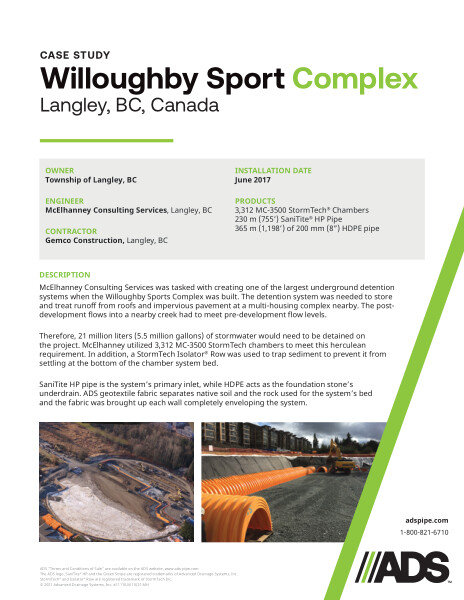 This document is the case study for the Willoughby Sports Complex, Langley, BC case study, (METRIC). An underground detention system under the complex discussed.
McElhanney Consulting Services was tasked with creating one of the largest underground detention systems when the Willoughby Sports Complex was built. The detention system was needed to store and treat runoff from roofs and impervious pavement at a multi-housing complex nearby. The post-development flows into a nearby creek had to meet pre-development flow levels. Therefore, 21 million liters (5.5 million gallons) of stormwater would need to be detained on the project.
McElhanney utilized 3,312 MC-3500 StormTech chambers to meet this herculean requirement. In addition, a StormTech Isolator Row was used to trap sediment to prevent it from settling at the bottom of the chamber system bed. SaniTite HP pipe is the system's primary inlet, while HDPE acts as the foundation stone's underdrain. ADS geotextile fabric separates native soil and the rock used for the system's bed and the fabric was brought up each wall completely enveloping the system.
The installation was done in June 2017 using 3,312 MC-3500 StormTech Chambers, 230 m (755') SaniTite HP Pipe, 365 m (1,198') of 200 mm (8") HDPE pipe.
Photographs of the project are included.