McLaughlin Place case study, Moncton, NB, (METRIC)
Filename:
McLaughlin Place case study, Moncton, NB, (METRIC).pdf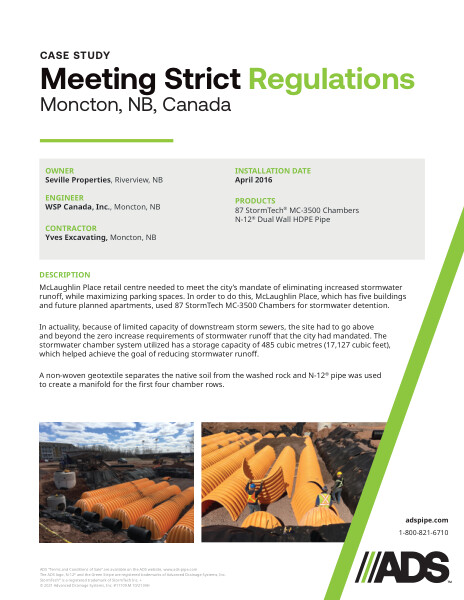 This document is the case study for the McLaughlin Place case study, Moncton, NB. A project to handle storm water runoff to maximize parking spaces discussed.
McLaughlin Place retail centre needed to meet the city's mandate of eliminating increased stormwater runoff, while maximizing parking spaces. In order to do this, McLaughlin Place, which has five buildings and future planned apartments, used 87 StormTech MC-3500 Chambers for stormwater detention.
In actuality, because of limited capacity of downstream storm sewers, the site had to go above and beyond the zero increase requirements of stormwater runoff that the city had mandated. The stormwater chamber system utilized has a storage capacity of 485 cubic metres (17,127 cubic feet), which helped achieve the goal of reducing stormwater runoff. A non-woven geotextile separates the native soil from the washed rock and N-12 pipe was used to create a manifold for the first four chamber rows.
The installation was done in April 2016 using 87 StormTech MC-3500 Chambers, N-12 Dual Wall HDPE Pipe.
Photographs of the project are included.