MC-3500 & MC-4500 StormTech Chamber Installation Guide
Filename:
MC-3500 & MC-4500 StormTech Chamber Installation Guide.pdf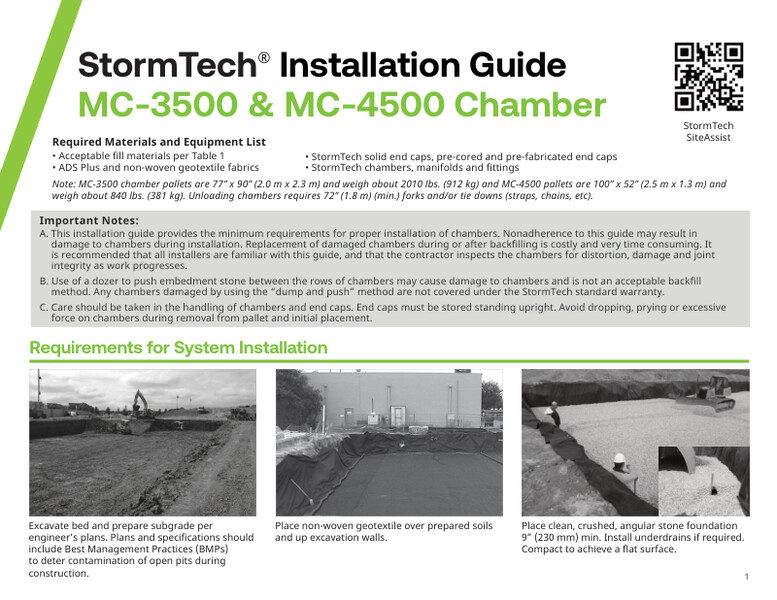 This document is the StormTech Chamber Installation Guide for the MC-3500 & MC-4500 models. Installation, assembly and fill materials are discussed with accompanying charts and photographs.
This installation guide provides the minimum requirements for proper installation of the MC-3500 & MC-4500 chamber systems. It is recommended that all installers become familiar with this guide and conduct inspections during the installation to avoid problems or damage.
Requirements for system installation are detailed in steps with accompanying photographs. Step 1 is to excavate the bed and prepare subgrade per engineer's plans. Step 2, place the geotextiles over prepared soils and up excavation walls. Lastly, place clean, crushed, angular stone in the foundation. Install underdrains and compact to achieve a flat surface.
Manifold, scour fabric and chamber assembly steps are: install manifolds and layout ADS Plus fabric at inlet rows at each inlet end cap. Place a continuous piece along entire length of Isolator Plus and align end caps. Next, Ropes attached to the SC/DC are to be used to lift and place the chambers by excavator. Then continue installing chambers by overlapping chamber end corrugations. Lastly, place a continuous layer of ADS Plus fabric between the foundation stone and the Isolator Row Plus chambers. Isolator Row PLUS and manifold insertion details are provided.
Photographs show the process of initial embedment that is spotted along the centerline of the chamber evenly anchoring the lower portion of the chamber. At this stage, heavy equipment is not operated on the bed.
Right and wrong backfill comparisons show how to backfill the chambers evenly. The perimeter stone must be brought up evenly with chamber rows and must be fully backfilled.
Photographs of the embedment and cover stone show how to evenly backfill between the rows and perimeter. Recommended backfill methods are with a stone conveyor outside of the bed or build as you go with an excavator inside the bed reaching along the rows.
The final backfill of chambers with fill material is photographed showing the installation of the geotextile over stone. Inserta-TEE detail is included.
An acceptable fill material chart lists the correct material location, description, AASHTO M43 designation and compaction/density requirement. The inspection port detail and fill material location figures are included.