Inserta Tee OneFit Product Sheet
Filename:
Inserta Tee OneFit Product Sheet.pdf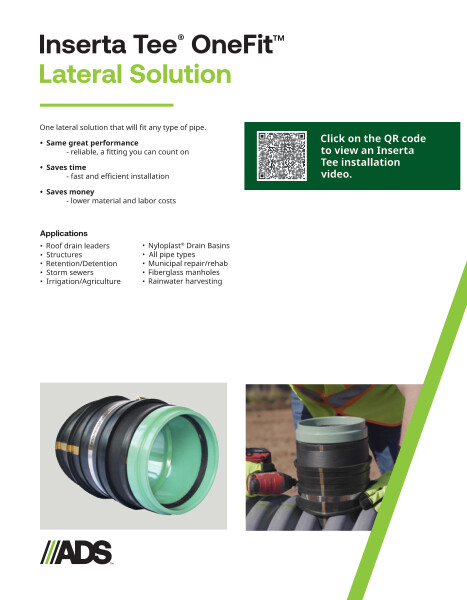 The ADS® Inserta Tee® OneFit™ is a lateral service solution that will fit any pipe type. OneFit is a reliable fitting that provides the same great performance as Inserta Tee. The OneFit lowers material and labor costs and allows for fast and efficient installation.
OneFit works with any type of pipe and can be used for roof drain leaders, structures, storm sewers, irrigation/agricultural, retention/detention systems, rainwater harvesting, Nyloplast® drain basins, municipal repair/rehabilitation and fiberglass manholes.
OneFit reduces labor costs with its easy installation. The installation steps begin by coring a hole perpendicular to the host pipe using an Inserta Tee hole saw. After cutting the hole deburr the cored hole. Fit the two sleeves together to make sure the gold lines on the sleeves line up. Insert the rubber sleeve into the cored hole with the gold line perpendicular to the pipe. Once sleeves are in place, pull up on the inner sleeve and push down the outer sleeve until fitted to the host pipe.
Apply soap solution to inside of inner sleeves and to PVC hub. Insert the PVC hub – aligning the hub's red line with the sleeve's gold lines - into the sleeve until snug. Drive the plastic hub into the rubber sleeve with a mallet and block of wood until the rubber sleeve meets the red line. Place and tighten the stainless steel band.