StreamFilter Product Sheet
Filename:
StreamFilter Product Sheet.pdf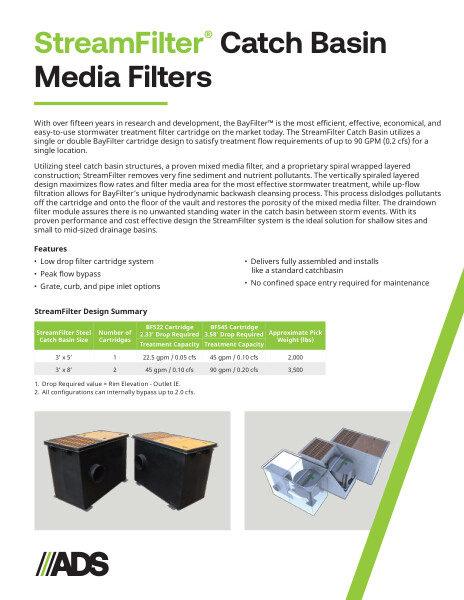 This document is the StreamFilter Sell Sheet. It explains the catch basin media filter function with specifications.
The BayFilter™ is the most efficient, effective, economical, and easy-to-use stormwater treatment filter cartridge on the market today. The StreamFilter Catch Basin utilizes a single or double BayFilter cartridge design to satisfy treatment flow requirements of up to 90 GPM (0.2 cfs) for a single location.
Utilizing steel catch basin structures, a proven mixed media filter, and a proprietary spiral wrapped layered construction; StreamFilter removes very fine sediment and nutrient pollutants.
The vertically spiraled layered design maximizes flow rates and filter media area for the most effective stormwater treatment, while up-flow filtration allows for BayFilter's unique hydrodynamic backwash cleansing process. This process dislodges pollutants off the cartridge and onto the floor of the vault and restores the porosity of the mixed media filter. The draindown filter module assures there is no unwanted standing water in the catch basin between storm events. With its proven performance and cost effective design the StreamFilter system is the ideal solution for shallow sites and small to mid-sized drainage basins.
Features are Low drop filter cartridge system, Peak flow bypass, Grate, curb, and pipe inlet options, No confined space entry required for maintenance and delivers fully assembled and installs like a standard catch basin. StreamFilter Design Summary table is provided.
Specifications discuss internal components, PVC manifold piping, filter cartridges, filter media and steel catch basin.
Performance is based on the stormwater filter system capable of treating 100% of the required treatment flow at full sediment load conditions. Other performance details are listed.
Installation shall be performed per manufacturers instructions.