1601T Road Separator Fabric (black) Geosynthetic Specification
Filename:
1601T Road Separator Fabric (black) Geosynthetic Specification.pdf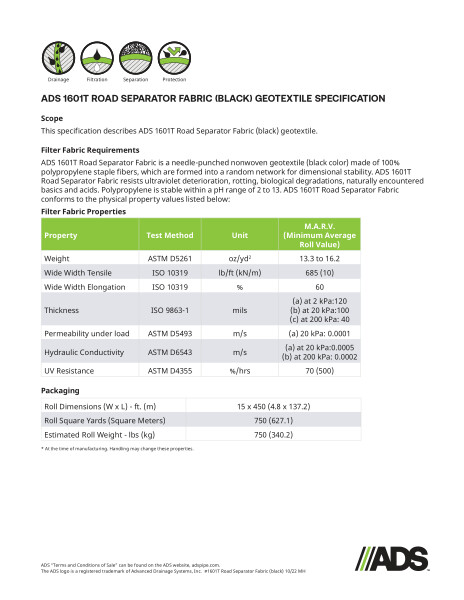 This document is the ADS Geosynthetics 1601T Road Separator Fabric (black). Filter fabric requirements and properties are listed.
ADS 1601T Road Separator Fabric is a needle-punched nonwoven geotextile (black color) made of 100% polypropylene staple fibers, which are formed into a random network for dimensional stability. ADS 1601T Road Separator Fabric resists ultraviolet deterioration, rotting, biological degradations, naturally encountered basics and acids. Polypropylene is stable within a pH range of 2 to 13.
The filter fabric properties chart lists values for weight, wide width tensile, wide width elongation, thickness, permeability under load, hydraulic conductivity and UV resistance. Test methods, Units and M.A.R.V defined.
Roll dimensions are included.