Inserta Tee Service Connection Specification
Filename:
Inserta Tee Service Connection Specification.dwg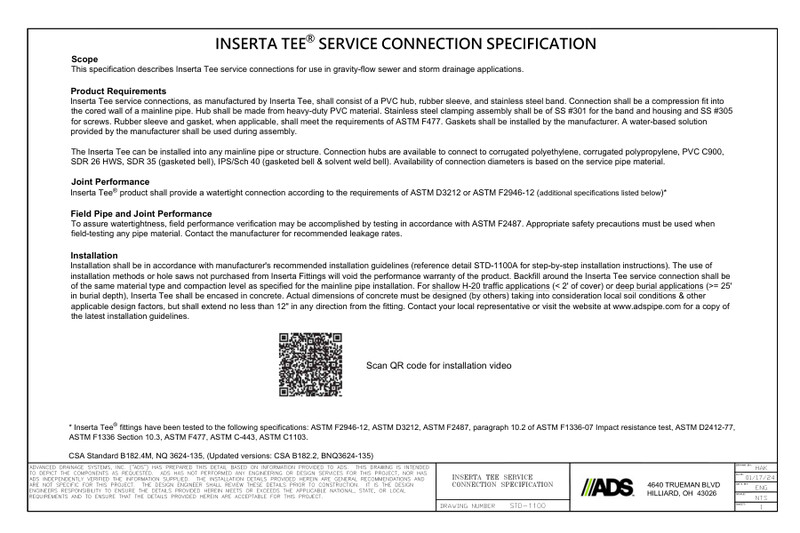 This document describes the Inserta Tee Service Connection Specification. Scope, requirements, performance and installation detailed. QR code provided.
This specification describes Inserta Tee service connections for use in gravity-flow sewer and storm drainage applications. The product requirements for Inserta Tee service connections, as manufactured by Inserta Tee, shall consist of a PVC hub, rubber sleeve, and stainless steel band. Connection shall be a compression fit into the cored wall of a mainline pipe. Hub shall be made from heavy-duty PVC material. Stainless steel clamping assembly shall be of SS #301 for the band and housing and SS #305 for screws. Rubber sleeve and gasket, when applicable, shall meet the requirements of ASTM F477. Gaskets shall be installed by the manufacturer. A water-based solution provided by the manufacturer shall be used during assembly.
The Inserta Tee can be installed into any mainline pipe or structure. Connection hubs are available to connect to corrugated polyethylene, corrugated polypropylene, PVC C900, SDR 26 HWS, SDR 35 (gasketed bell), IPS/Sch 40 (gasketed bell & solvent weld bell). Availability of connection diameters is based on the service pipe material.
Inserta Tee product joint performance shall provide a watertight connection according to the requirements of ASTM D3212 or ASTM F2946-12. For field pipe and joint performance to assure watertightness, field performance verification may be accomplished by testing in accordance with ASTM F2487. Appropriate safety precautions must be used when field-testing any pipe material. Contact the manufacturer for recommended leakage rates.
Installation shall be in accordance with manufacturer's recommended installation guidelines. The use of installation methods or hole saws not purchased from Inserta Fittings will void the performance warranty of the product. Backfill around the Inserta Tee service connection shall be of the same material type and compaction level as specified for the mainline pipe installation.
Contact your local representative or visit the website at www.adspipe.com for a copy of the latest installation guidelines.