8" - 36" Typical Installation Options Nyloplast Detail
Filename:
8" - 36" Typical Installation Options Nyloplast Detail.pdf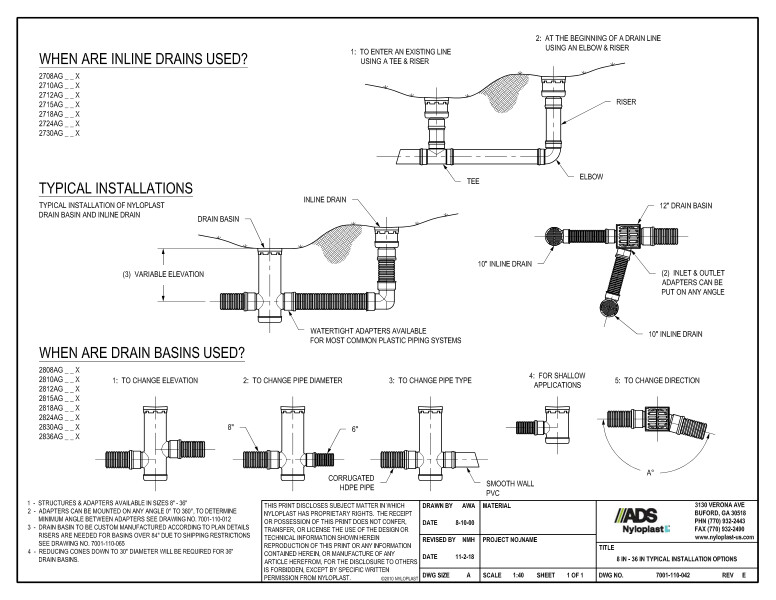 This document is the 8" - 36" Typical Installation Options Nyloplast Detail. It explains when inline drains and drain basins are used with typical installations.
When are inline drains used is a question answered with illustrations showing how to enter an existing line using a TEE & riser, also at the beginning of a drain line using an elbow & riser.
Typical Installation of Nyloplast inline drain and drain basin is explained through an illustration showing the inline drain, drain basin, variable elevation and watertight adapters. The 2nd illustration shows the 10" inline drain, 12" brain basin and inlet & outlet adapters that can be put on any angle.
When are drain basins used is a question answered with illustrations showing changing elevation, changing pipe diameter, changing pipe type, for shallow applications and to change direction.
Note 1 states that structures & adapters are available in sizes 8" – 36". Note 2 says that adapters can be mounted on any angle. Note 3 clarifies that drain basin must be custom manufactured. Note 4 recommends reducing cones down to 30" diameter will be required for 36" drain basins.