Nyloplast Water Control Structure With Orifice In Riser Pipe Detail
Filename:
Nyloplast Water Control Structure With Orifice In Riser Pipe Detail.pdf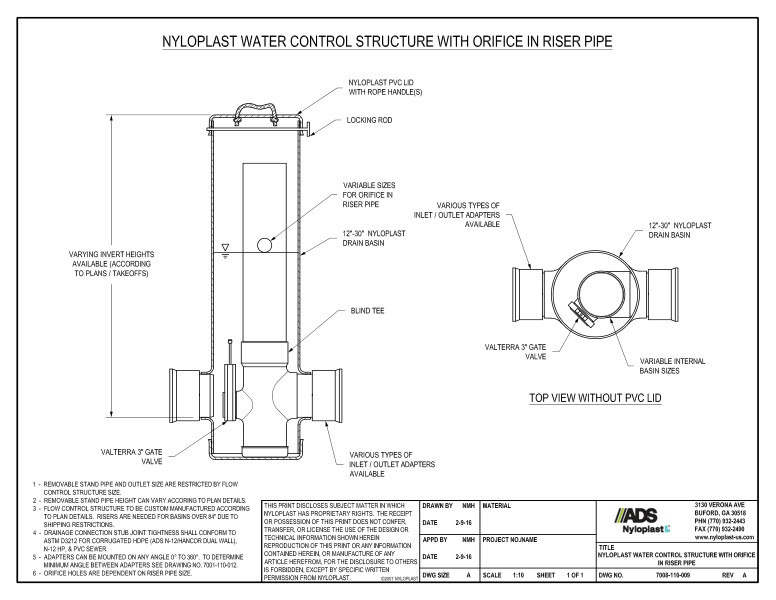 This document is the Nyloplast Water Control Structure With Orifice in Riser Pipe. 2 details with nyloplast illustrations shown.
The Nyloplast Water Control Structure Detail shows the nyloplast PVC lid with rope handles, locking rod, variable height and diameter for orifice in riser pipe, 12"-30" nyloplast drain basin, blind Tee, variable invert heights and inlet/outlet adapters and a Valterra 3" gate valve. Top view without PVC lid shows the various types of inlet/outlet adapters, 12"-30" nyloplast drain basin, a Valterra 3" gate valve and variable internal basin sizes.
Note 1 states that removable stand pipe and outlet size are restricted by flow control structure size. Note 2 says that removable stand pipe height can vary. Note 3 states that flow control structure must be custom manufactured. Note 4 outlines drainage connection stub joint tightness conformities. Note 5 states that adapters can be mounted on any angle. Note 6 says that orifice holes are dependent on riser pipe size.