Drain Basin with EnviroHood Quick Spec Installation Nyloplast Detail
Filename:
Drain Basin with EnviroHood Quick Spec Installation Nyloplast Detail.dwg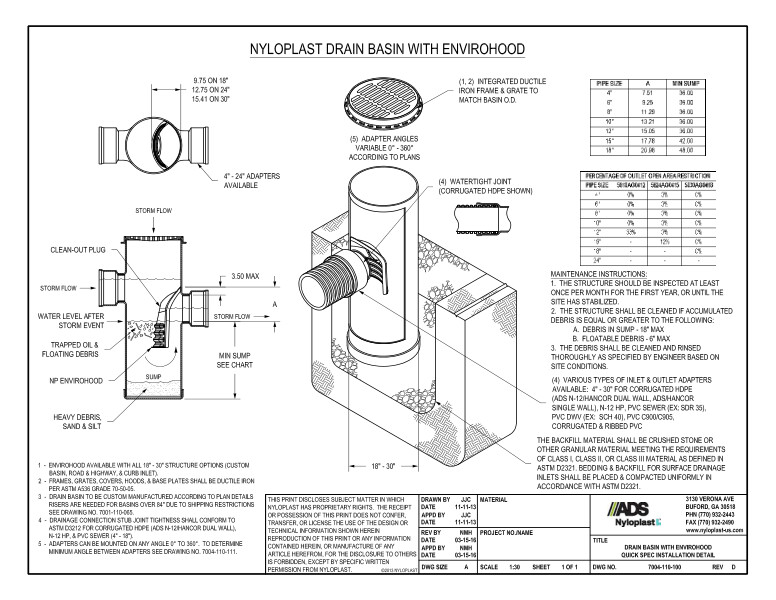 This document is the Drain Basin with EnviroHood Quick Spec Installation Nyloplast Detail. Details with dimensions and nyloplast illustrations shown.
The Nyloplast Drain Basin with EnviroHood spec shows the integrated ductile iron frame and grate to match basin with adapter angles variable, 4" – 24" adapters, watertight joint on corrugated HDPE, back fill and various inlet and outlet adapters. Another detail shows the drain basin describing storm flow, clean out plug, water level after storm event, trapped oil and floating debris, NP envirohood, minimum sump depths and heavy debris, sand and silt.
Note 1 states that envirohood with 18" – 30" structure options. Note 2 states that frames, grate, cover and hood shall be ductile iron. Note 3 drain basin to be custom manufactured. Note 4 states that drainage connection stub joint tightness shall conform to ASTM D3212. Note 5 states that adapters can be mounted on any angle.
A chart details pipe size, A and minimum sump depth. A second chart is percentage of outlet open areas restriction with various pipe sizes.
Maintenance tips include inspection at least once a month, clean accumulating debris, the debris shall be cleaned and rinsed based on site conditions.