410 Installation SaniTite HP Tee Base with Precast Riser Detail
Filename:
410 Installation SaniTite HP Tee Base with Precast Riser Detail.pdf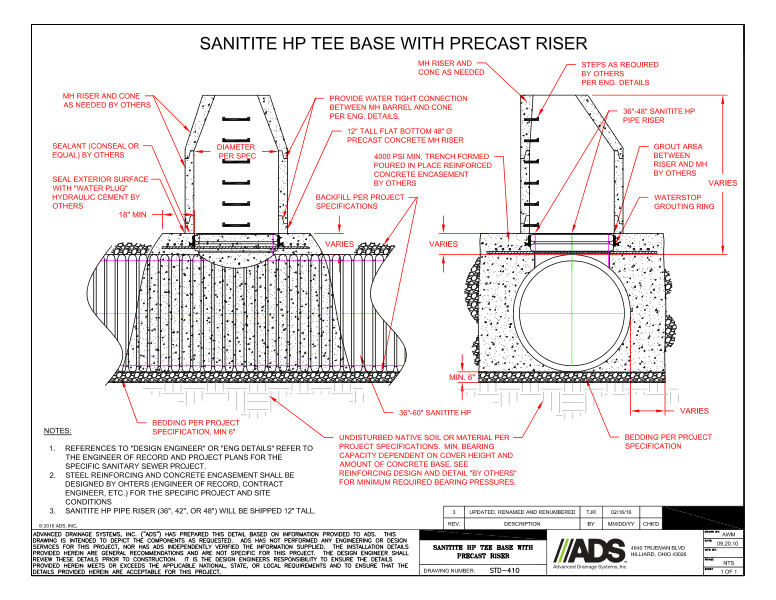 This document is the 410 Installation SaniTite HP Tee Base with Precast Riser Detail. It shows 2 details for the unit with dimensions, notes and descriptions.
The first detail shows MH riser and cone, sealant, seal exterior surface, diameter per spec, provide water tight connection between MH barrel and cone, 12" flat bottom precast concrete riser, backfill per project, bedding per project, 36"-60" SaniTite HP and undisturbed native soil.
The 2nd detail shows the MH riser and cone, steps as required, 36"-48" SaniTite HP pipe riser, grout area between riser and MH, waterstop grouting ring, 4000 PSI MIN trench formed poured in place reinforced concrete encasement, bedding per project and undisturbed native soil.
Notes references to "design engineer" or "ENG details" refer to engineer for sanitary sewer project. Steel reinforcing and concrete encasement shall be designed by others and the SaniTite HP pipe riser (36", 42", 48") will be shipped 12" tall.