Drain Basin & Inline Drain Non Traffic Installation Nyloplast Detail
Filename:
Drain Basin & Inline Drain Non Traffic Installation Nyloplast Detail.pdf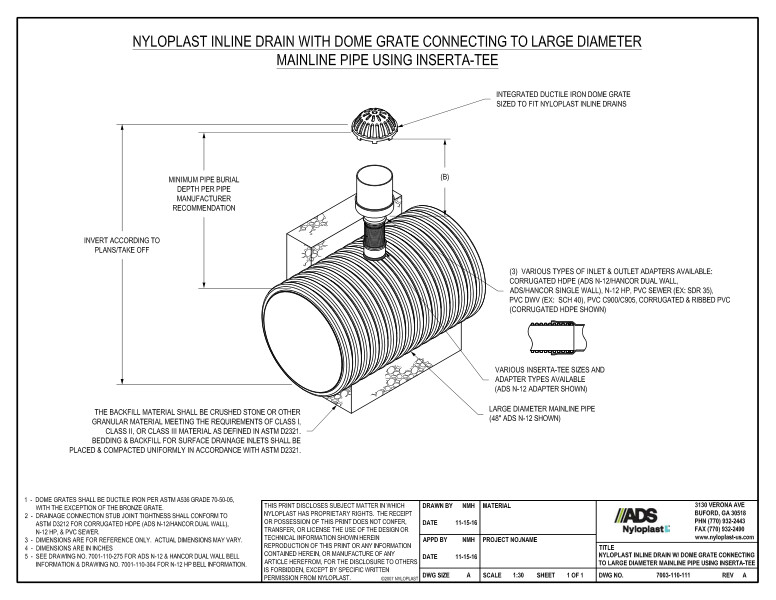 This document is the 18" - 30" Minimum Angle Between Adapters with EnviroHood Nyloplast Detail. It shows the nyloplast inline drain with dome grate connecting to a large diameter mainline pipe using inserta-TEE.
The illustration shows the integrated ductile iron dome grate sized to fit nyloplast inline drains, minimum pipe burial, inverts, various types of inlet/outlet adapters, various inserta-TEE sizes and adapter types, large diameter mainline pipe and backfill material made from crushed stone or other granular material.
Note 1 states that dome grates shall be ductile iron per ASTM A536 grade 70-50-05. Note 2 explains that drainage connection stub joint tightness shall conform to ASTM D3212 for corrugated HDPE, N-12 HP & PVC sewer. Note 3 and 4 state that dimensions are for reference and in inches. Note 5 directs to drawing for ADS N-12, Hancor dual wall bell and N-12 HP bell information.