101K HDPE Trench Installation Detail (CSS)
Filename:
101K HDPE Trench Installation Detail (CSS).dwg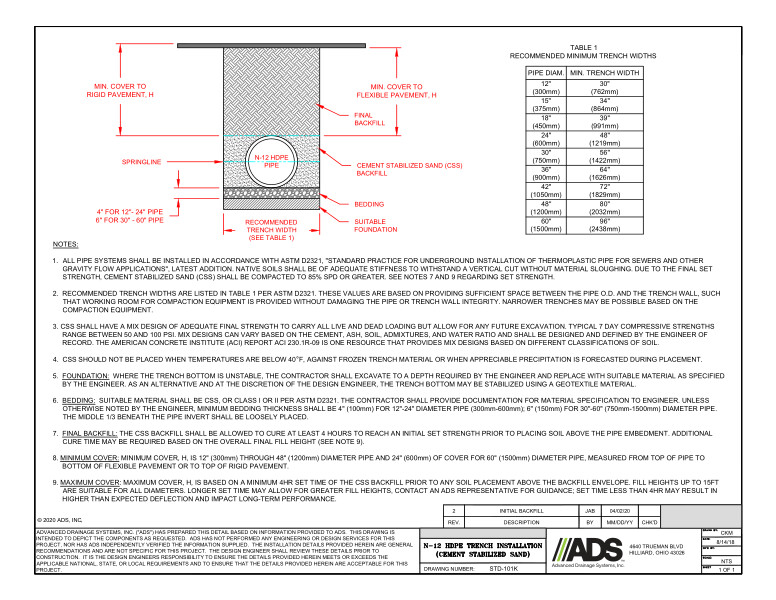 This document is the 101K HDPE Trench Installation Detail (CSS). Diagram with descriptions, table and notes provided.
The HDPE Trench Installation Detail shows the minimum cover to rigid pavement, springline, minimum cover to flexible pavement, final backfill, cement stabilized sand backfill, bedding, suitable foundation, N-12 HDPE pipe and recommended trench width.
Table 1 for recommended minimum trench widths shows the measurements for various pipe diameters with minimum trench widths.
Notes state that all pipe systems shall be installed in accordance with ASTM D2321. Recommended trench widths are based on providing sufficient space between the pipe OD and trench wall. CSS shall have a mix design of adequate final strength to carry all live and dead loading but allow for future excavation. CSS should be placed where temperatures are below 40F. Foundation where the trench bottom is unstable, excavate unsuitable material to the required depth and replace with suitable material. Bedding with suitable material shall be ASTM D2321 Class I, II or III. Final backfill with suitable CSS material shall be allowed to cure for at least 4 hours to reach set strength prior to placing soil. Minimum and maximum covers listed.