Drain Basin with Add-A-Branch Quick Spec Installation Nyloplast Detail
Filename:
Drain Basin with Add-A-Branch Quick Spec Installation Nyloplast Detail.dwg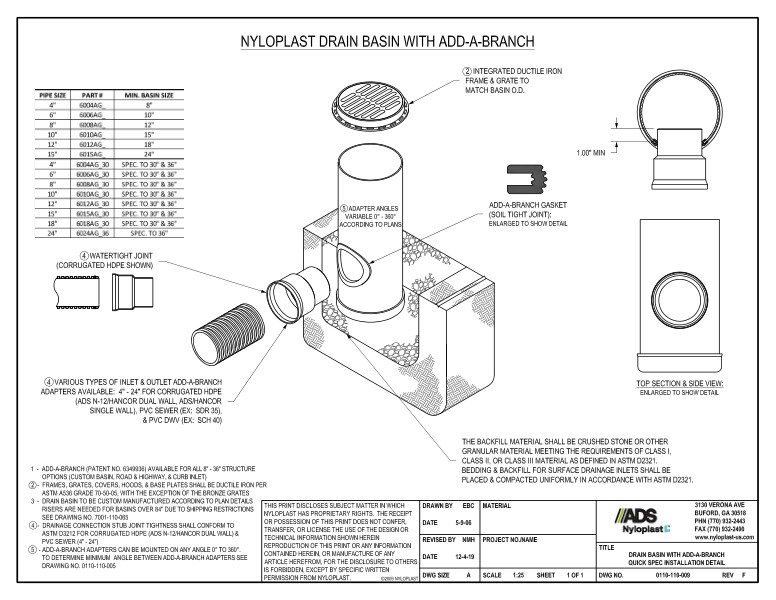 This document is the Drain Basin with Add-A-Branch Quick Spec Installation Nyloplast Detail. Illustrations with descriptions, chart and notes shown.
The nyloplast Drain Basin with Add-A-Branch shows the integrated ductile iron frame & grate to match basin, variable adapter angles, Add-A-Branch gasket, backfill material shall be crushed stone or other granular material, water tight joint and various types of inlet/outlet add-a-branch adapters. Top section and side view also shown.
A chart is provided with pipe sizes, part numbers and minimum basin sizes.
Note 1 states that Add-A-Branch available for all 8" – 36" structure options. Note 2 says that frames, grate, cover, hood and base plates shall be ductile iron. Note 3 states that drain basins are to be custom manufactured. Note 4 explains that drainage connection stub joint tightness shall conform to ASTM D3212. Note 5 states that Add-A-Branch adapters can be mounted on any angle.