Nyloplast Drain Basin Standard Detail for 4"-24" Duraslot Pipe
Filename:
Nyloplast Drain Basin Standard Detail for 4"-24" Duraslot Pipe.dwg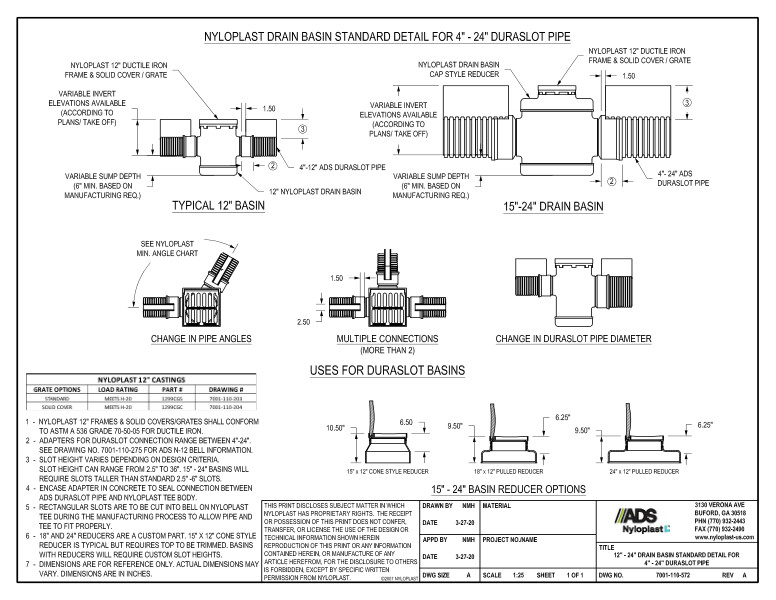 The Nyloplast Drain Basin Standard Detail for 4"-24" Duraslot® pipe shows how to utilize a drain basin and Duraslot on a project.
The drawing displays a typical 12" (300 mm) basin and also a 15"-24" (375-600 mm) basin. The drawing also shows how Duraslot can be fit into a drain basin and that variable invert elevations are available depending on the plans/take off. A variable sump depth is also available, but a 6" (150 mm) minimum is a manufacturer's requirement.
Part of the drawing also displays a change in pipe angles based on the Nyloplast minimum angle chart, how to make more than two connections and the change in the Duraslot pipe's diameter. Different types of basin reducer options include a cone style reducer and a pulled reducer.
Notes included on the drawing are:
1 – Nyloplast 12" (600 mm) frames and solid covers/grates shall conform to ASTM A536 Grade 70-50-05 for ductile iron.
2 – Adapters for Duraslot connection range between 4"-24 (100-600 mm). See drawing No.7001-110-275 for ADS N-12 bell information.
3 – Slot height varies depending on design criteria. Slot height can range from 2.5" to 36" (63 to 900 mm). 15"-24" (375-600 mm) basins will require slots taller than standard 2.5"-6" (63-150 mm) slots.
4- Encase adapter in concrete to seal connection between Duraslot pipe and Nyloplast tee body.
5 – Rectangular slots are to be cut into bell on Nyloplast tee during the manufacturing process to allow pipe and tee to fit properly.
6 – 18" and 24" (450 and 600 mm) reducers are a custom part. 15"x12" (375x300 mm) cone style reducer is typical but requires top to be trimmed. Basins with reducers will require custom slot heights.
7 – Dimensions are for reference only. Actual dimensions may vary.