Sustainability Brochure
Filename:
Sustainability Brochure.pdf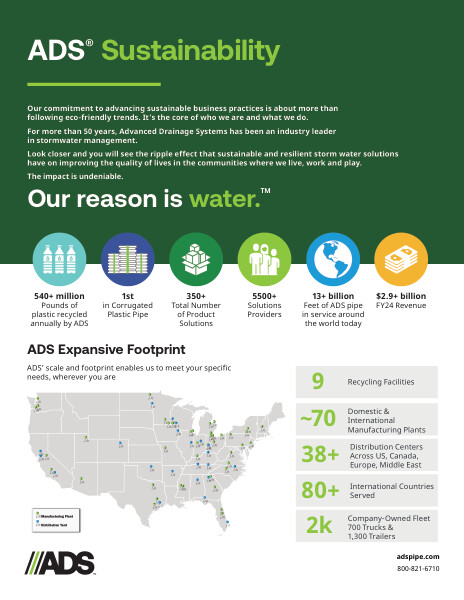 This document is the Sustainability Brochure. It describes the sustainability footprint, highlights and 10 year goals.
ADS® Sustainability is a commitment to advancing sustainable business practices not just about following eco-friendly trends. It's the core of who we are and what we do.
For more than 50 years, Advanced Drainage Systems has been an industry leader in stormwater management. Look closer and you will see the ripple effect that sustainable and resilient storm water solutions have on improving the quality of lives in the communities where we live, work and play. The impact is undeniable and our reason is water.
ADS uses 600+ million pounds of recycled plastic annually and has an expansive footprint with 9 recycling facilities, 70 domestic and international manufacturing plants, 38+ distribution centers, 80+ international countries served and 2k company owned fleet trucks and trailers.
Sustainability highlights for environmental, operational and social & governance listed.
10 year sustainability goals are more recycling, environmental impact reduction, accountability, social purpose, operational excellence and news/keeping the lines of communication open.