Inlet Filter Lite Product Sheet
Filename:
Inlet Filter Lite Product Sheet.pdf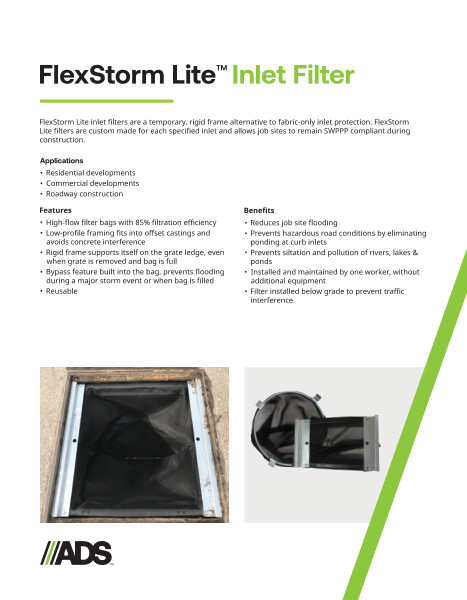 The sell sheet gives information on the FlexStorm Lite™ Inlet Filter including applications, features and benefits and the product's specification. FlexStorm Lite inlet filters are a temporary, rigid frame alternative to inlet protections with fabric only. Lite filters are custom made for each specific inlet and allows job sites to remain SWPPP compliant during the construction.
Features of the Lite filter are high-flow filter bags with 82% filtration efficiency, a low-profile frame that fits in offset castings and avoids concrete interference, the rigid frame supports itself on the ledge, the bypass feature prevents flooding and the filter is reusable.
The Lite filter prevents hazardous road conditions by eliminating flooding and ponding at inlets, prevents siltation and pollution of rivers, lakes and ponds, can be installed and maintained by one worker below grade to prevent traffic interference.
Applications of the FlexStorm Lite are residential and commercial developments and roadway construction.
The specification page gives material and performance, installation, inspection and maintenance guidelines. FlexStorm Lite meets ASTM D8057 and is made of a corrosion resistant steel frame and replaceable geotextile filter bag. The standard woven bags are rated for 200 gpm/sqft with an 82% removal efficiency.
The installation guidelines include removing grate from inlet and cleaning the ledge. The inlet filter is then suspended onto the structure's load-bearing ledge. After replacing the grate, the installer should confirm the grate is no elevated more than 1/8" (3 mm). Curb inlet filters utilize a flap to cover the curb hood. The flap can be trimmed or staked down behind the curb.
Inspection of Lite filters should occur following rain events over ½" (13 mm) and should be monitored to current site runoff conditions.
The Lite inlet filter should be maintained by emptying the filter bag manually or with an industrial vacuum being careful not to damage the geotextile bag. Compacted silt should be removed from the bag and flushed with a medium spray. Replace the bag if torn or punctured.