Recycled Plastic Performance Brochure
Filename:
Recycled Plastic Performance Brochure.pdf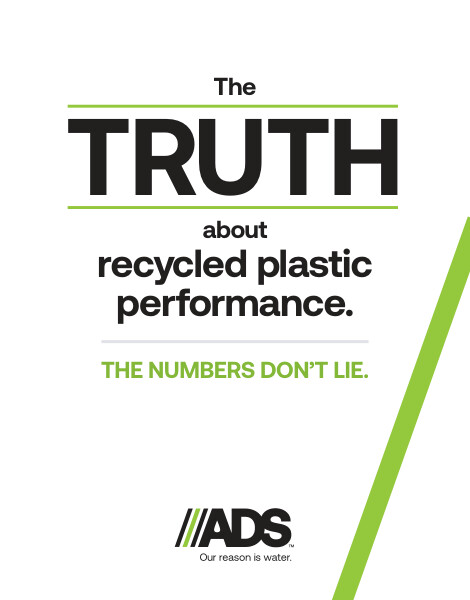 This document is the Recycled Plastic Performance Brochure. Data provided for recycled material performance that is equal to virgin products.
All ADS pipe is created equal. Contrary to popular belief, ADS recycled material performs equally to virgin and undergoes the same rigorous ASTM testing. Unlike traditional straight-stick drainage pipe, the coiled agricultural tile is subjected to extreme physical conditions in each of the handling, installation, and installed requirements. ADS recycled formulations are built for strength, stiffness, and toughness. Data for flexural modulus, tensile strength and pipe stiffness provided.
Balancing material and mechanical properties are crucial for pipe performance, and specific ranges are set to determine its versatility. Data provided for density, melt index and inside diameter.
For some physical property standards, a passing grade is a critical indicator of pipe performance. Proof is shown through environmental stress crack resistance, brittleness, color, length and elongation maximum numbers.
Recycled pipe performs just as well as virgin in the field, but it also has a few extra valuable selling points such as ADS is the 2nd largest recycler in North America, it takes 59% less water to produce recycled products and recycled resin uses 88% less total energy than virgin.