PP5-12 Turf Reinforcement Mat Geosynthetic Specification
Filename:
PP5-12 Turf Reinforcement Mat Geosynthetic Specification.pdf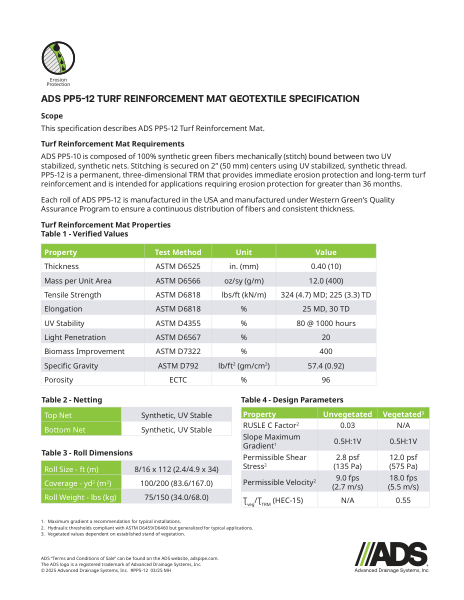 This document is the ADS Geosynthetics PP5-12 Turf Reinforcement Mat. Requirements for the turf reinforcement mat and erosion control blanket is included.
ADS Geosynthetics PP5-12 is composed of 100% synthetic components. A matrix of green polypropylene fibers is mechanically (stitch) bound between two UV stabilized, heavy duty synthetic nets. Stitching is secured on two inch centers using UV stabilized, heavy duty polypropylene thread. Excel PP5-12 is a permanent, three-dimensional TRM that provides immediate erosion protection and long term turf reinforcement and is intended for slope or channel applications requiring erosion protection for greater than thirty-six months.
Each roll of ADS Geosynthetics PP5-12 is manufactured under a quality assurance program to ensure a continuous distribution of fibers and consistent thickness.
Chart 1 lists the verified values for the erosion control blanket properties for tensile strength, elongation, mass per unit area, thickness, light penetration, resiliency, UV stability and porosity. Chart 2 shows values for netting which lists top net, bottom net, top net opening and bottom net opening. Chart 3 shows the roll dimensions.