Barracuda S4, S6 & S8 Concrete Installation Guide
Filename:
Barracuda S4, S6 & S8 Concrete Installation Guide.pdf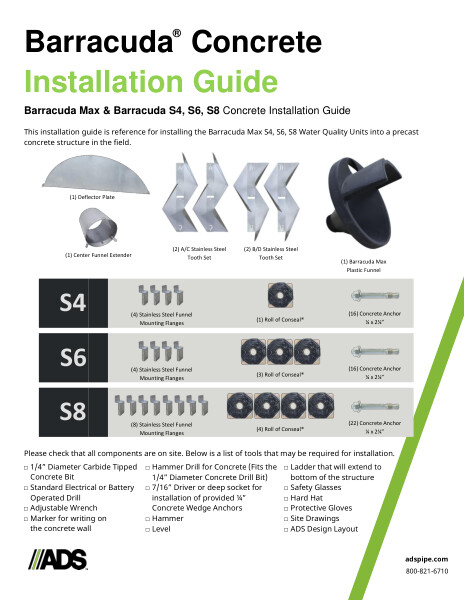 This document is the Barracuda S4, S6 & S8 Concrete Installation Guide. It is a reference guide for installation featuring instructions and photos.
A checklist of components needed for installation is provided for models S4, S6 and S8.
Installation Instructions (These directions assume the manhole base and riser have been assembled, but that the top slab/cone has not been set). A note clarifies to not insert the inlet or outlet pipes until after the Barracuda Max internals have been installed. If pipes must be inserted in advance, the pipes should not protrude into the structure as they will interfere with installation of the bowl.
Steps in installation are mounting flanges for the Barracuda Max plastic funnel, mount 4 sets of teeth vertically inside manhole sump, fasten sets of teeth to the manhole, attach deflector plate to concrete manhole, lower the plastic funnel into the structure and use Conceal to fill any gaps around the funnel.
A table showing dimensions for top anchor elevation from sump floor and funnel flange anchor elevation from sump floor provided.
Notes state that distances can be +/- 1-2 inches (25-50 mm) from these locations for the A, and B teeth, but flange elevations should be adhered to as much as possible and can only be lowered a maximum of 1 inch (25 mm) from these values listed above.
This guide is intended for field installations of Barracuda Max S4, S6, and S8 water quality units into precast manholes. For pre-casters installing internal components prior to job site delivery, contact ADS for possible modifications to component elevations.