Duraslot Brochure
Filename:
Duraslot Brochure .pdf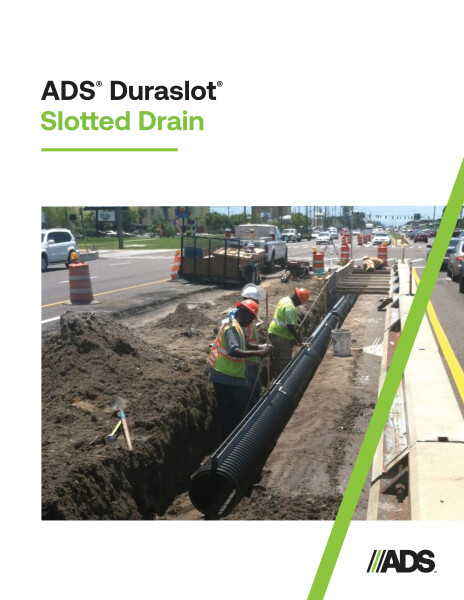 The Duraslot® Slotted Drain brochure gives information on 4"-36" (100-900 mm) Duraslot pipe for use in surface drain applications.
Duraslot slotted drains provide superior hydraulic efficiency, flow capacity and handle heavy loads. Duraslot is durable and corrosion-resistant to provide a cost-effective solution to stormwater capture. Duraslot is made from dual-wall corrugated polyethylenen pipe with an aluminum slot mounted grate.
Typical applications for Duraslot include streets, highways, airpors, parking lots, plazas, loading docks, industrial floors, parks/athletic fields, school building, commercial and warehouses (including inside flooring).
Features and benefits of Duraslot are resilient materials, greater hydraulic efficiency, lower installation costs, longer pipe, lower material costs, reduced maintenance costs, impact resistance, fabricated fittings (elbows, tees, wyes and custom fabricated fittings) and variable and custom height slot.
Included in the specification are pipe and grate requirements, fittings, installation, Build America, Buy America (BABA) Act information and a table that gives pipe drain grate length, pipe end length, slot height, pipe width with corrugation, flange length, opening width and slot width.