Water Quality Unit Inspection and Maintenance Guide
Filename:
Water Quality Unit Inspection and Maintenance Guide.pdf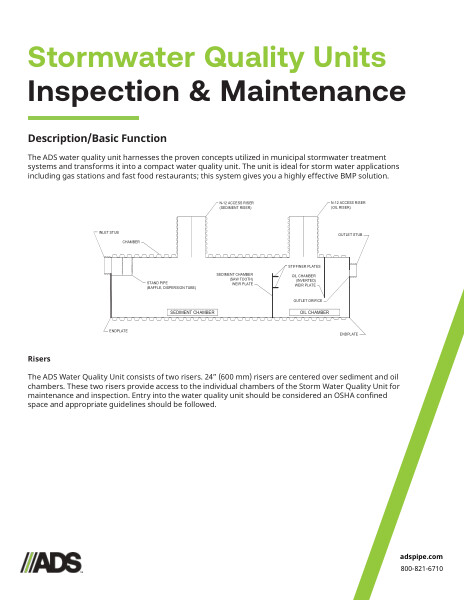 This document is the Water Quality Unit Inspection and Maintenance Guide. It describes the basic function, risers and maintenance overview.
The ADS Water Quality Unit harnesses the proven concepts utilized in municipal sewage treatment systems and transforms it into a compact Water Quality Unit. The unit is ideal for storm water applications including gas stations and fast food restaurants; this system gives you a highly effective BMP solution to meet EPA requirements.
The diagram shows the unit's N-12 access riser, chamber, inlet stub, stand pipe, endplate, sediment chamber, outlet stub, stiffener plates, oil chamber and outlet orifice.
The ADS Water Quality Unit consists of two risers. A 24" riser is centered over Sediment and Oil Chambers. These two risers provide access to the individual chambers of the Storm Water Quality Unit for maintenance and inspection.
The purpose of maintaining a clean and obstruction free Water Quality Unit is to ensure the system performs its intended function. A build-up of debris in excess of the design storage volume could reduce the efficiency of the system. A company specializing in such activities should perform inspection and maintenance of the Water Quality Unit.
Inspection/Maintenance Frequency for the ADS Water Quality Unit is Inspected quarterly (4 times a year) and after major storm events. Cleaned (pumped and pressure washed) a minimum of once a calendar year. Site or surrounding site conditions may require more inspections and maintenance.
An inspection should be performed when the system is installed. This allows the owner to measure the invert prior to accumulation of sediment. This survey will allow the monitoring of sediment build-up without entering the system, thereby eliminating the need for confined space entry. Documentation of pre-inspection data should be captured. A list of procedures is provided.
Cleaning should be performed if sediment volume has reduced the storage area by 20% or if the depth of sediment has reached approximately 25% of the diameter of the structure. The system may need cleaning in the event a spill of a foreign substance enters the unit. Inspection procedures and a chart with sediment depth at cleanout, with detail is provided. Cleaning procedures are listed with material disposal tips.