PRODUCT
June 24, 2022 / 6 minute read
3 Advantages of Nyloplast vs the Competition
What is Nyloplast?
The name gets thrown around ADS, our website, and with our team, but if you are new to ADS – let's talk about it.
In 1962, Nyloplast Europe B.V. was founded in the Netherlands as a manufacturer of PVC fittings. After expanding throughout Europe, Nyloplast expanded to the United States and set up operations in Buford, GA in 1988. During the 90's and early 2000's, we developed a relationship with Nyloplast which ultimately led to us acquiring Nyloplast US in 2001.
Fast forward to today and Nyloplast is the most efficient, cost-effective, and highest quality drainage structures on the market. Available throughout North America and boasting a 100-year service life, we have more than 1 million drainage structures in service. Nyloplast PVC basins are fast, customizable, and easy to install.
Faster Delivery
Our custom Nyloplast basins take 2-3 days to produce, while InLine drains and other standard products can be shipped out the same day. Nyloplast has 4 production facilities throughout the US allowing us to manufacture and ship products, hassle-free, nationwide.
Production Facilities:
Buford, GA
Findlay, OH
Bakersfield, CA
Hempstead, TX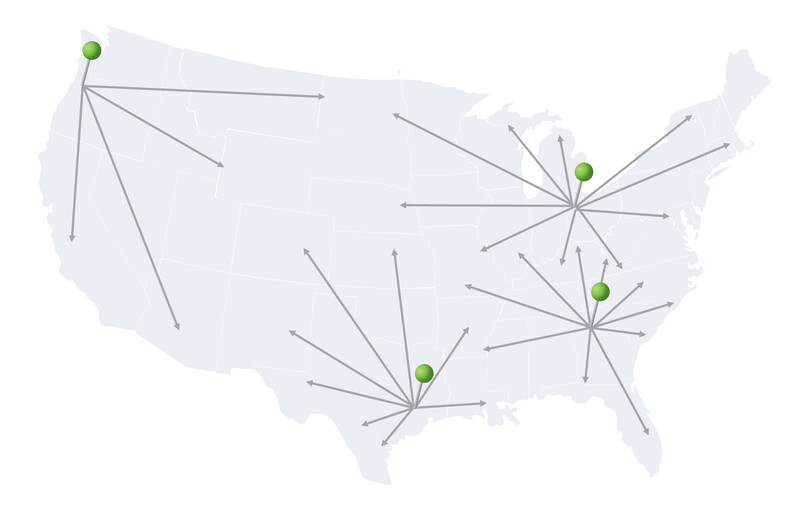 Transit times can vary based on location, but typically it would take 3-5 days to get to a given job site. Be sure to track your shipment once it leaves our plant with the embedded links to the carrier websites. All basins arrive to job sites packaged and palletized for easy and convenient job site storage.
Faster Installation
For a general contractor, completing a stormwater management project on time is often one of the most elements.
Nyloplast is versatile and adaptable and makes it easy to adjust your frame and grate to final grade with risers and easy field trimming. Basins and InLine Drains boast much faster (3-4X) installation times than precast and brick and mortar inlets. The lightweight products required less equipment and personnel, plus they can be easily adjusted in the field to ensure proper drainage is achieved.
In the video below, you can see the Nyloplast installation is complete in under an hour, whereas the precast concrete structure takes over 5 hours to complete.
Your Trusted Stormwater Team
Managing stormwater is a huge task. That's why our teams are available every step of the way. With over 300 Nyloplast sales and specialists nationwide, we're there to support designs, drawings, quotes, and any other upfront questions you may have. Once a project is underway our APMs and job site services teams can oversee construction and installation.
Nyloplast products have now been a major part of ADS' offering for the past 20 years. Even throughout challenging times in the global economy, Nyloplast has been able to meet the fast-paced needs of our customers. With lengthy lead times of precast and other traditional materials now, Nyloplast products can arrive at job sites in a timely (less than 2 weeks), cost-effective manner.
To learn about our full Nyloplast collection, click here.