HP Storm Installation Guide for Agricultural Drainage
Filename:
HP Storm Installation Guide for Agricultural Drainage.pdf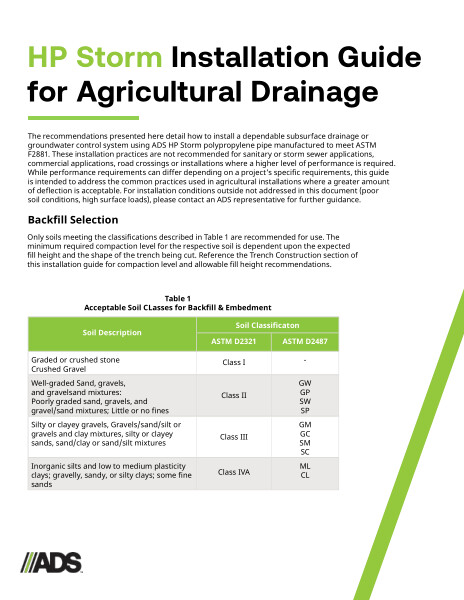 This document discusses the HP Storm Installation Guide for Agricultural Drainage. Backfill, trench construction, trench bottoms with details and tables provided.
The recommendations detail how to install a dependable subsurface drainage or groundwater control system using ADS HP Storm polypropylene pipe manufactured to meet ASTM F2881. These installation practices are not recommended for sanitary or storm sewer applications, commercial applications, road crossings or installations where a higher level of performance is required. While performance requirements can differ depending on a project's specific requirements, this guide is intended to address the common practices used in agricultural installations where a greater amount of deflection is acceptable. The minimum required compaction level for the respective soil is dependent upon the expected fill height and the shape of the trench being cut.
Acceptable soil classes for backfill & embedment table describes the soil and soil classification for ASTM D2321 & ASTM D2487.
As with any pipe, groundwater or seasonal high water tables may impede installation. De-watering is necessary to maintain stability of in-situ and backfill materials for a safe and effective installation. Trenches or ditch bottoms containing bedrock, soft much or refuse or other material unable to provide long-term pipe support are unacceptable and shall be removed. Additionally, when perforated pipe or pipe with soil-tight joints is installed and water levels are expected to vary, either due to seasonal fluctuations, pumping or well-pointing methods, water flow may be sufficient to move sand or silt into the drain, in which case a non-woven filter fabric around the pipe may be necessary to prevent blockage or hydraulic capacity reduction of the pipe. It is recommended that any pipe with more than 8' (2.4 m) of cover be non-perforated.
The shape of the trench can vary based on excavation equipment, type of fill being used for embedment and compaction methods. V-Bottom trench: 4"-8" pipe, rounded trench bottom: 10"-60" pipe and flat trench bottom: 4"-60" pipe is explained with figures, tables and installation tips.