Isolator Row Plus O&M Manual
Filename:
Isolator Row Plus O&M Manual.pdf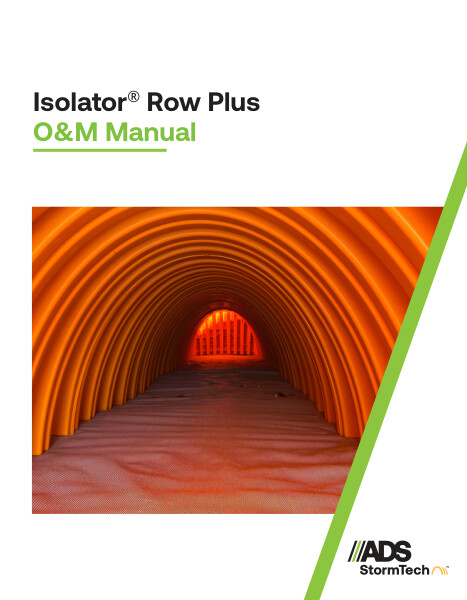 This document is the Isolator Row Plus O&M Manual. Description of system and inspection/maintenance steps included.
The StormTech Isolator Row Plus is a technique to inexpensively enhance Total Suspended Solids (TSS) and Total Phosphorus (TP) removal with easy access for inspection and maintenance. It is a row of chambers surrounded by filter fabric and connected to a closely located manhole for easy access.
The Isolator Row Plus is designed to capture the "first flush" runoff and offers the versatility to be sized on a volume basis or a flow-rate basis. After Stormwater flows through the Isolator Row Plus and into the rest of the chamber system it is either exfiltrated into the soils below or passed at a controlled rate through an outlet manifold and outlet control structure.
The frequency of inspection and maintenance varies by location. A routine inspection schedule needs to be established for each individual location based upon site specific variables. The type of land use (i.e. industrial, commercial, residential), anticipated
pollutant load, percent imperviousness, climate, etc. all play a critical role in determining the actual frequency of inspection and maintenance practices.
Maintenance is accomplished with the JetVac process. The JetVac process utilizes a high pressure water nozzle to propel itself down the Isolator Row Plus while scouring and suspending sediments.
Isolator Row Plus Step By Step Maintenance Procedures are outlined with diagrams including a sample maintenance log.