Silt Fence Installation Guide
Filename:
Silt Fence Installation Guide.pdf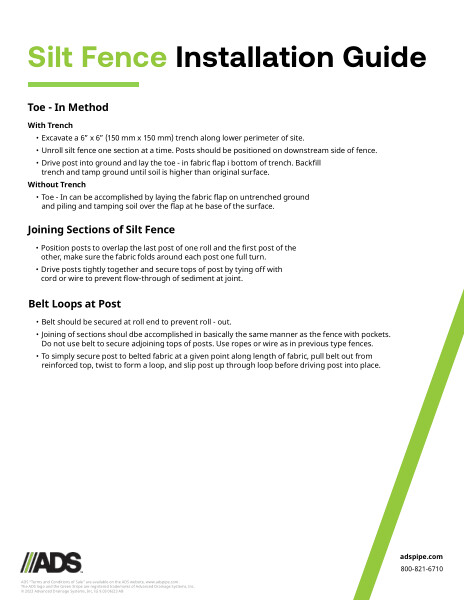 This document is the Silt Fence Installation Guide. A detailed chart with installation guidelines is included.
The chart features 3 installation descriptions. The Toe-in method says with a trench. Excavate a 6" x 6" (15.2 cm x 15.2 cm) trench along lower perimeter of site. Unroll silt fence one section at time. Posts should be positioned on downstream side of fence. Drive post into ground and lay the toe - in fabric flap in bottom of trench. Backfill trench and tamp ground until soil is higher than original surface. Without trench the Toe - in can be accomplished by laying the fabric flap on un-trenched ground and piling and tamping soil over the flap at the base of the structure.
Joining Sections of silt fence explains to position posts to overlap the last post of one roll and the first post of the other, make sure the fabric folds around each post one full turn. Drive posts tightly together and secure tops of post by tying off with cord or wire to prevent flow -through of sediment at joint.
Belt loops at post recommends that Belt should be secured at roll end to prevent roll - out. Joining of sections should be accomplished in basically the same manner as the fence with pockets. Do not use belt to secure adjoining tops of posts. Use ropes or wire as in previous type fences. To simply secure post to belted fabric at a given point along length of fabric, pull belt out from reinforced top, twist to form a loop, and slip post up through loop before driving post into place.