48" Drain Basin Product Sheet
Filename:
48" Drain Basin Product Sheet.pdf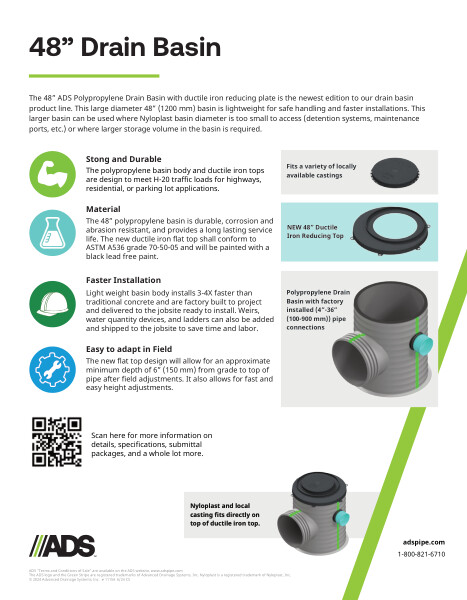 This document is the Nyloplast HP Manhole 48" Sell Sheet. General description, features and specifications explained.
The 48" (1200 mm) HP (High Performance) Manhole was developed with performance, ease of maintenance, and cost-effectiveness in mind. It is lightweight for ease of installation and designed to meet the demands for structural performance. It is a perfect solution for installations where joint integrity, soil migration, and corrosion are concerns.
Features are providing watertight connections for a wide range of pipe connection types and sizes. Watertight pipe connections installed at plant and ready for field connections. Tested to meet H-20 traffic loading. Long-service life, excellent abrasion and corrosion resistance. Light weight structure constructed from ADS polypropylene pipe for easy installation. Significant installed cost savings. Easy access with mounted ladder options for systems and application that require inspections and maintenance. All 48" (1200 mm) structure joints are air tested prior to shipment to ensure the best joint integrity. Field adjustments include risers/trim downs/INSERTA TEE branches from 4"-24" (100-600 mm). Low profile options available. The use of a concrete collar is required to support live and dead loading. 48" (1200 mm) HP Manholes can be built and modified easily to include weirs and other water control and quality devices. Production facilities across the United States. 48" (1200 mm) structures can be produced and shipped to jobsites as quickly as traditional materials.
The HP Manhole specifications cover scope, joint properties, performance and installation tips.
Photographs of the product and installation are included.