Weir Structure Nyloplast Maintenance Guide
Filename:
Weir Structure Nyloplast Maintenance Guide.pdf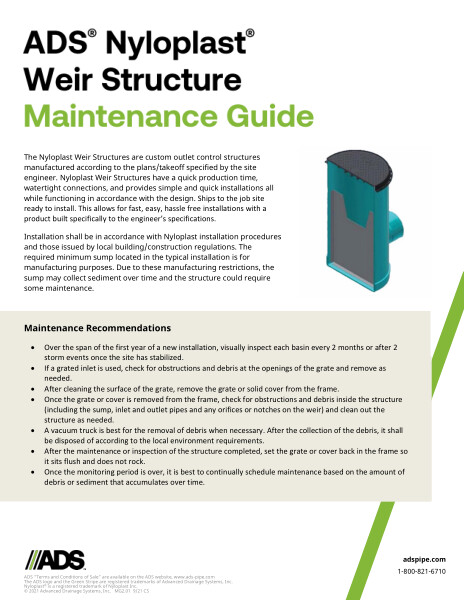 This document is the Weir Structure Nyloplast Maintenance Guide. It offers recommendations for maintenance and general information.
The Nyloplast Weir Structures are custom outlet control structures manufactured according to the plans/takeoff specified by the siteengineer. Nyloplast Weir Structures have a quick production time, watertight connections, and provides simple and quick installations all while functioning in accordance with the design. Ships to the job site ready to install. This allows for fast, easy, hassle free installations with a product built specifically to the engineer's specifications.
Installation shall be in accordance with Nyloplast installation procedures and those issued by local building/construction regulations. The required minimum sump located in the typical installation is for manufacturing purposes. Due to these manufacturing restrictions, the sump may collect sediment over time and the structure could require some maintenance.
Maintenance Recommendations are: Over the span of the first year of a new installation, visually inspect each basin every 2 months or after 2 storm events once the site has stabilized. If a grate inlet is used, check for obstructions and debris at the openings of the grate and remove as needed. After cleaning the surface of the grate, remove the grate from the frame. Once the grate is removed from the frame, check for obstructions and debris inside the basin (including the sump and inlet and outlet pipes) and clean out as needed. A vacuum truck is best for the removal of debris when necessary. After the collection of the debris, it shall be disposed of according to the local environment requirements. After the maintenance or inspection of the structure completed, set the grate back in the frame so it sits flush and does not rock.
Once the monitoring period is over, it is best to continually schedule maintenance based on the amount of debris or sediment that accumulates over time.