Onsite Leach Arc 18 & Arc 24 Installation Guide
Filename:
Onsite Leach Arc 18 & Arc 24 Installation Guide .pdf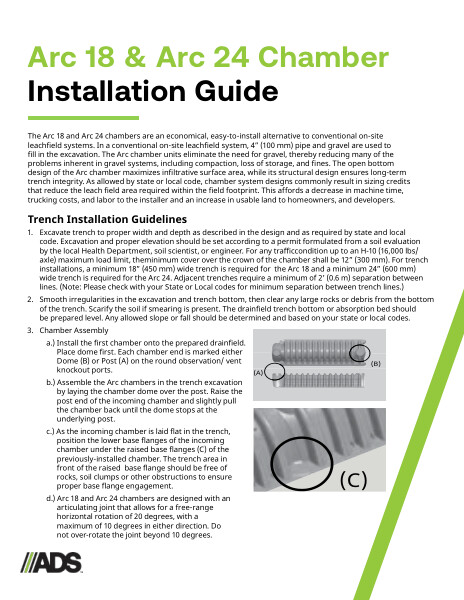 This document is the Onsite Leach Arc 18 & Arc 24 Installation Guide. Trench and bed installations are explained with photographs and diagrams.
The Arc 18 and Arc 24 chambers are an economical, easy-to-install alternative to conventional on-site leachfield systems. In a conventional on-site leachfield system, 4-inch pipe and gravel are used to fill in the excavation. The Arc chamber units eliminate the need for gravel, thereby reducing many of the problems inherent in gravel systems, including compaction, loss of storage, and fines.
The open bottom design of the Arc chamber maximizes infiltrative surface area, while its structural design ensures long-term trench integrity. As allowed by state or local code, chamber system designs commonly result in sizing credits that reduce the leach field area required within the field footprint. This affords a decrease in machine time, trucking costs, and labor to the installer and an increase in usable land to homeowners, and developers.
The trench installation guidelines explains excavating trench to proper width and depth, smooth irregularities in excavation and trench bottom. Steps for chamber assembly. Tips for steps prior to installing end caps and to place lip of end cap over the end of the chamber unit and snap into place. Splash plates shall be placed under the inlet end of the chamber per local codes. Connect serial or manifold lines per end cap instructions. Post ends have small knockouts located on the roof of each chamber allowing for zip ties to hang pressure-dosing pipe. A knockout inspection port is provided in each arc. Fille sidewall area to top of chambers with native soil. Complete backfill of the system and when preparing final grade, grade so stormwater is diverted away from drainfield.
Bed installation guidelines recommends to excavate bed to proper width and depth per local code. Smooth irregularities in the excavation and clear any large rocks or debris from bottom of bed. See installation guide for chamber assembly.
Photographs show the steps described and a table for Arc 18 & 24 confirm values for length, height, weight and capacity.