TN 5.14 Culvert Sliplining with HP Pipe
Filename:
TN 5.14 Culvert Sliplining with HP Pipe.pdf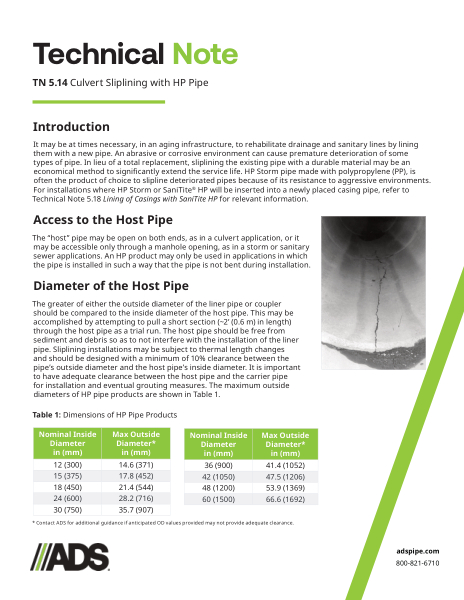 This document is the TN 5.14 Culvert Sliplining with HP Pipe. Host pipe, installation, hydraulics, insertion forces and grouting procedures discussed.
It may be at times necessary, in an aging infrastructure, to rehabilitate drainage and sanitary lines by lining them with a new pipe. An abrasive or corrosive environment can cause premature deterioration of some types of pipe. In lieu of a total replacement, sliplining the existing pipe with a durable material may be an economical method to significantly extend the service life. N-12
HP pipe made with polypropylene (PP), is often the product of choice to slipline deteriorated pipes because of its resistance to aggressive environments. The "host" pipe may be open on both ends, as in a culvert application, or it may be accessible only through a manhole opening, as in a storm or sanitary sewer applications. An HP product may only be used in applications in which the pipe is installed in such a way that the pipe is not bent during installation.
The diameter of the host pipe with a dimension table, the length of installation with a table on maximum push force on HP products, hydraulic considerations and structural requirements are detailed.
Before the pipe is inserted into an existing culvert for relining, it is critical to inspect the existing culvert for any objects or obstructions, which may be extending into the barrel of the existing culvert to be relined. Failure to do this may result in a damaged liner pipe. Skids are recommended as a base to slide the pipe on, a figure showing attachment of skids to HP pipe is shown.
Once the culvert or casing is clear, the new material may be pushed through. It is important to not exceed the maximum insertion force that can be applied to the lining or carrier pipe. This will prevent the pipe joints from over insertion. A photograph is included.
When relining a culvert with HP pipe, it is recommended to fill the void space between the existing culvert and the lining pipe with grout material. The grout material is often a controlled low strength material, also referred to as controlled density fill, CDF, or flowable fill. CLSM will help provide uniform support on the sides of the pipe, maintain a consistent soil density, provide lateral support for the pipe, and eliminate point loads. A photograph is included.