Francisco Street Reservoir, San Francisco, CA (METRIC)
Filename:
Francisco Street Reservoir, San Francisco, CA (METRIC).pdf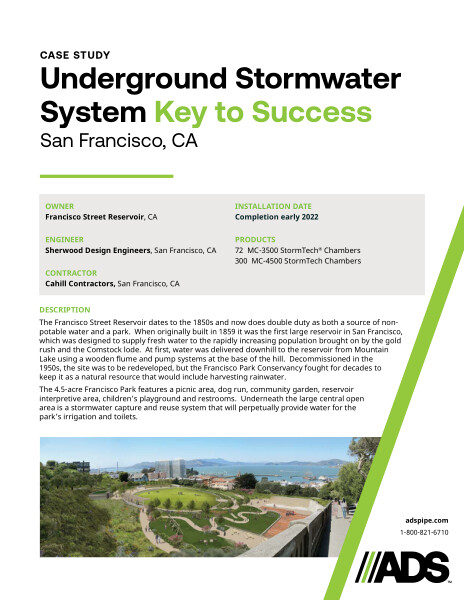 This document is the case study for the Francisco Street Reservoir, San Francisco, CA (METRIC). Storm water capture and reuse system under the Park discussed.
The Francisco Street Reservoir dates to the 1850s and now does double duty as both a source of non-potable water and a park. When originally built in 1859 it was the first large reservoir in San Francisco, which was designed to supply fresh water to the rapidly increasing population brought on by the gold rush and the Comstock lode. At first, water was delivered downhill to the reservoir from Mountain Lake using a wooden flume and pump systems at the base of the hill. Decommissioned in the 1950s, the site was to be redeveloped, but the Francisco Park Conservancy fought for decades to keep it as a natural resource that would include harvesting rainwater.
The 4.5-acre Francisco Park features a picnic area, dog run, community garden, reservoir interpretive area, children's playground and restrooms. Underneath the large central open area is a stormwater capture and reuse system that will perpetually provide water for the park's irrigation and toilets.
The installation was done in early 2022 using 72 MC-3500 StormTech Chambers and 300 MC-4500 StormTech Chambers.
Photographs of the project are included.