EcoPure 360 Standard Detail
Filename:
EcoPure 360 Standard Detail.dwg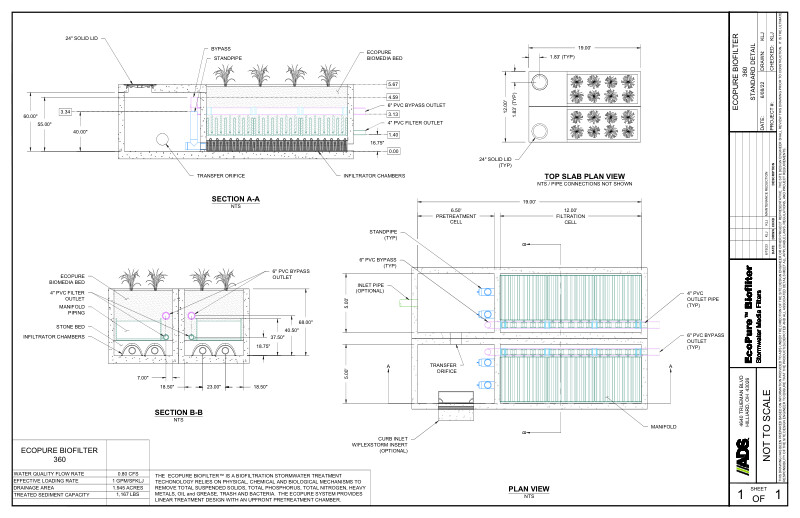 This document is the EcoPure 360 Standard Detail. The system provides linear treatment design with upfront pretreatment chamber. Details + dimensions included.
The EcoPure biofilter is a biofiltration stormwater treatment technology that relies on physical, chemical and biological mechanisms to remove total suspended solids, total phosphorus, total nitrogen, heavy metals, oil, grease, trash and bacteria.
A cross section detail showing the solid lid, bypass, standpipe, EcoPure biomedia bed, cleanout, bypass outlet, PVC filter outlet, transfer orifice and infiltrator chambers is shown. A top slab plan view is included.
A second cross sections shows the EcoPure biomedia bed, PVC bypass outlet, manifold piping, PVC filter outlet, stone bed and infiltrator chambers.
The plan view shows the filtration cell, pretreatment cell, PVC bypass outlet, manifold, standpipe, PVC bypass, inlet pipe, curb inlet with flexstorm insert, PVC outlet pipe and cleanout.
Water quality flow rate, effective flow rate, drainage area and treated sediment capacity values listed.