Top Ten Reasons to Tile
Filename:
Top Ten Reasons to Tile.pdf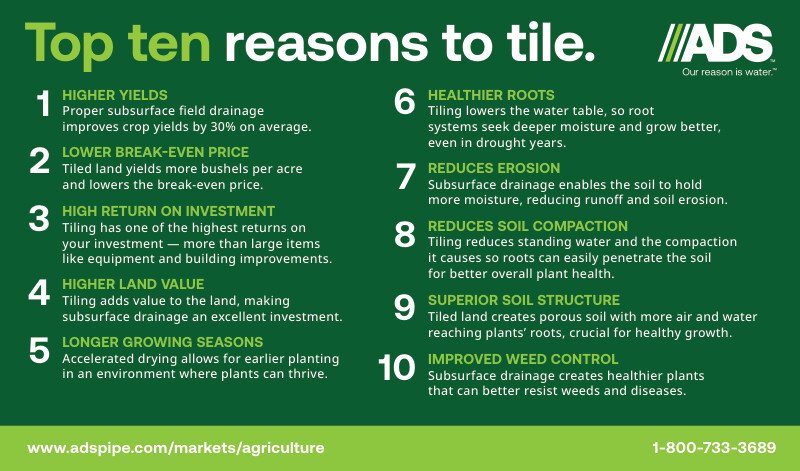 This document is the Top Ten Reasons to Tile. A list of 10 advantages for agricultural tile is shown. Stats are included.
The 10 reasons to tile are:
HIGHER YIELDS-Proper subsurface field drainage improves crop yields by 30% on average.
LOWER BREAK-EVEN PRICE-Tiled land yields more bushels per acre and lowers the break-even price.
HIGH RETURN ON INVESTMENT- Tiling has one of the highest returns on your investment — more than large items like equipment and building improvements.
HIGHER LAND VALUE-Tiling adds value to the land, making subsurface drainage an excellent investment.
LONGER GROWING SEASONS-Accelerated drying allows for earlier planting in an environment where plants can thrive.
HEALTHIER ROOTS-Tiling lowers the water table, so root systems seek deeper moisture and grow better, even in drought years.
REDUCES EROSION-Subsurface drainage enables the soil to hold more moisture, reducing runoff and soil erosion.
REDUCES SOIL COMPACTION-Tiling reduces standing water and the compaction it causes so roots can easily penetrate the soil for better overall plant health.
SUPERIOR SOIL STRUCTURE-Tiled land creates porous soil with more air and water reaching plants' roots, crucial for healthy growth.
IMPROVED WEED CONTROL-Subsurface drainage creates healthier plants that can better resist weeds and diseases.
Stats reveal that 30% yield increase was shown with a 25-year studies show that tiling increased corn and soybean yield by 30%. 42.88" was the average precipitation, According to the National Climate Control, 2018 was one of the wettest years on record in the Midwest. Up to $1.90 payback on every dollar invested in drainage improvement
creates a payback of at least $1.20 when growing corn or soybeans.