Nyloplast 24" Add-A-Branch Product Sheet
Filename:
Nyloplast 24" Add-A-Branch Product Sheet.pdf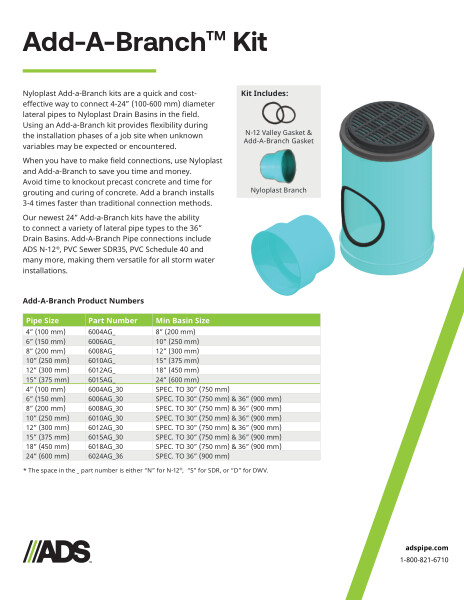 This document is the Nyloplast 24" Add-A-Branch Sell Sheet. General information, specifications, product chart and photographs are included.
Nyloplast Add-a-Branch kits are a quick and cost-effective way to connect 4-24" (100-600 mm) diameter lateral pipes to Nyloplast Drain Basins in the field. Using an Add-a-Branch kit provides flexibility during the installation phases of a job site when unknown variables may be expected or encountered. When you have to make field connections, use Nyloplast and Add-a-Branch to save you time and money. Avoid time to knockout precast concrete and time for grouting and curing of concrete. Add a branch installs 3-4 times faster than traditional connection methods.
Our newest 24" Add-a-Branch kits have the ability to connect a variety of lateral pipe types to the 36" Drain Basins. Add-A-Branch Pipe connections include ADS N-12®, PVC Sewer SDR35, PVC Schedule 40 and many more, making them versatile for all storm water installations.
A chart listing pipe size, part number and minimum basin size with photographs is included.
24" Add-A-Branch Kit Specification scope is joint performance between all 4"-24" (100-600 mm) Add-a-Branch adapters and the Nyloplast Drain Basins provide a soil tight connection as specified in ASTM F 2306. Gaskets per ASTM F477.
Installation notes state that Add-a-Branch structures shall be in accordance with manufacturer's recommended installation guidelines. It is recommended that the Add-A-Branch connection be 2 diameters smaller than basin diameter. This type of field connection can be cut into the basin using jigsaw, sawzaw or other cutting tools. Just stick on the template and follow the cut pattern. If multiple branches require field install, follow minimum angle chart.
2 angle requirement charts listing adapter size and basin size and a nyloplast drain basin with add-a-branch illustration is included.