THOUGHT LEADERSHIP
May 26, 2022 / 2 minute read
CapEx Spending to Meet Customer Needs
Written by Scott Barbour, President and CEO
As we've experienced in both our business and personal lives the past 18 months, supply chain constraints and shortages of both workers and materials have led to long lead times and uncertainty about when products get delivered to customers. It is not an easy problem to overcome, and companies are taking many different approaches to tackle it.
At our recent Investor Day, we shared that our positive economic performance these past three years has allowed us to reevaluate and expand our capital expenditures (CapEx). At both ADS and our subsidiary Infiltrator Water Technologies, this is helping us resolve some of these supply chain issues, which is having a positive impact on our customers and how quickly they receive our stormwater solutions.
ADS is determined to be among the first to recover, increasing our ability to deliver for our customers.
- Scott Barbour, President and CEO
What does that CapEx expansion look like? From a numbers perspective, ADS legacy capital expenditures were traditionally about $40 million each fiscal year. By contrast, we are on pace to hit nearly $80 million for fiscal year 2022. Combined with major investments at Infiltrator, we will double our total capital spend this fiscal year to $149 million.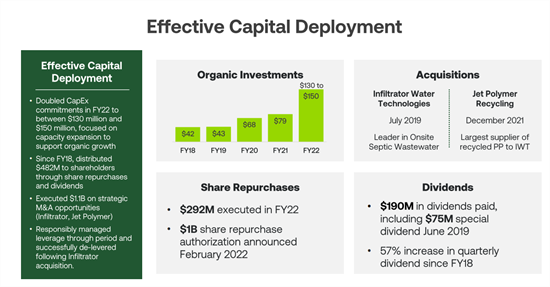 Three quarters of that capital spend went to organic growth and supporting increased capacity because ADS is determined to be among the first to recover, increasing our ability to deliver for our customers.
That, of course, required we step up our pace of investment. Those investments often went into some pretty great equipment and machinery across many of our lines. For example:
The Infiltrator campus in Westchester, Kentucky, is now home to both the world's largest injection molding presses and compression molding machines, expanding our production capacity.
Two new ADS lines were installed in our Sebring, Florida, plant to produce single-wall and N-12 pipe, with a goal of supporting our customers across the southeast region.
A new auto-coiler in our Perry, Georgia, plant allows us to produce single-wall coils at increased rates, increasing productivity and improving plant safety.
When we make these "smart capital expenditures," as Scott Cottrill, ADS EVP and CFO, calls them, we are able to stay ahead of surging demand. On top of this, by sourcing product from our Canadian plants into the northeastern U.S., and product from Mexico into Texas and the southwest region, we also reduced delivery times. In fact, we've reached pre-pandemic lead times in most U.S. markets.
The supply chain has been kind to no one recently, and that is a major focus for ADS as we bring lead times down to what customers are accustomed to. We've pivoted to invest capital in new ways that allow us to serve our customers, and in turn, grow our business. And we have the financial strength to invest in the future.