THOUGHT LEADERSHIP
September 26, 2022 / 2 minute read
The Business Case for a Circular Economy
Written by Nicole Voss, Director of Sustainability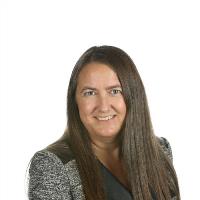 ADS' latest Sustainability Report came out a few weeks ago, and while there is a lot to celebrate inside those pages, there's one thing I keep coming back to: The fact that this company made a commitment to protecting and improving the environment, followed through, and saw incredible business gains while doing so.

Last fiscal year, we not only had the greatest market share in plastic pipes, we were also the largest plastics recycler in North America, turning more than 600 million pounds of recycled plastic into ADS pipes that will help our communities better manage stormwater. Approximately 770 million pounds of greenhouse gas emissions in our supply chain were avoided through our use of recycled plastic.

These are big achievements, and I'm proud to work for a company that has prioritized ESG goals. It's a good feeling to know that I am part of a team that is committed to helping take care of our planet.

Good feelings are nice, but we are also focused on our ESG goals because it makes good business sense to do it. This is what our investors want. There is a business case to be made for this kind of corporate responsibility.

Let me give you an example: When we announced our goal to recycle a billion pounds of plastic annually by 2032, our procurement team was, understandably, a little nervous. At the time, we were recycling around 510 million pounds of plastic a year. Reaching 1 billion would require us to redouble efforts to secure nearly twice the recycled materials we use today to make our plastic pipes. One colleague worried that the market is simply not that big and that we would not be able to find enough HDPE plastic, the type that makes up shampoo bottles and detergent jugs, to recycle.

But our team doesn't shy away from a challenge, and our procurement team has embraced this assignment. One critical piece: Identifying and strengthening strategic partnerships with suppliers. Another: Making the case for greater investment in recovering existing plastics from the households and corporations that use them, so those plastics can end up being repurposed into something durable and beneficial, rather than ending up in a landfill where it will take centuries to decompose.

This idea, of one thing becoming another, of extending the life of materials like plastics, is called circularity. Think of the production stream as a big circle: A company makes a plastic jug for laundry detergent, which ends up in a family's home until the detergent is gone. From that home, the jug could either go to a landfill or it can go to a recycling facility where it can be cleaned, mechanically recycled and sent on to a company like ours. We in turn convert it into a durable, usable product — in our case, pipes and chambers to manage stormwater that can last 50 to 100 years. Finally, at the end of our product's life, it can be recycled completing the loop.

I came to ADS because there were so many people from the production floor all the way up to the executive leadership team already committed to sustainability. Improving the world through our business practices was never a question of "if" we would do it — recycling has been ingrained in our culture for decades. It was always about building more momentum to support what we were already doing, and then doing more. We still have a lot of work to do, but I'm proud of where we are today — and I'm looking forward to sharing progress on our sustainability goals with all of you over the coming years.